Another NHBC Pride in the Job Award for our Site Manager Jeff Loughlin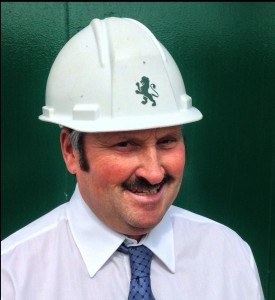 We are very proud to announce that Jeff Loughlin, Leet Haugh Site Manager, has been recognised by NHBC with their Pride in the Job Award 2017 for the second year running.
Jeff and the team have worked hard to ensure and maintain a high quality of workmanship throughout all aspects and stages of building.
This award is a visible demonstration of Hudson Hirsel's overall commitment to quality and something we are extremely proud of.
Jamie Hudson, Managing Partner of Hudson Hirsel said: "Jeff has been with Hudson Hirsel for over 10 years and this award is well-deserved recognition of his hard work and attention to detail. His strive for excellence helps us to deliver high quality homes with many traditional details."
Pride in the Job is the house-building industry's most prestigious awards programme. Now in its' 36th year, Pride in the Job is dedicated to recognising site managers who achieve the highest standards in house-building.
There are categories for smaller, independent builders as well as the medium, large and specialist high rise developers. With more than 16,000 site managers competing for the awards, this year's Quality Award winners were hand-picked for their excellent standards on site.
As well as undergoing spot checks on the day-to day running of the sites, each site manager is assessed across 37 areas of site management, including their technical knowledge, consistency in the build process and the quality controls they have in place.
Commenting on the Awards, Mike Quinton, Chief Executive of NHBC, said: "Pride in the Job rewards those site managers who produce the best new homes which are built and finished to the highest possible standard. Most importantly, homeowners who buy a Pride in the Job award-winning home benefit from a high quality product."