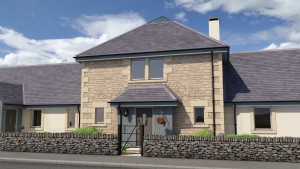 We are really excited to bring you news of Birgham East – a new property development of 5 luxury residential homes in the Berwickshire village of Birgham that has just received planning consent.
The development comprises two bungalows, a two story terrace home and two detached family houses.
The house styles of Birgham East very much reflects the local area. Although traditionally built, each home is thoroughly modern and comes with many features fitted as standard, such as walk-in dressing rooms, en-suites, country kitchens, traditional utility/mudrooms, under-floor bathroom heating. Despite the conservation and period design approach, the homes have gas central heating, low energy lighting and generous insulation to meet or exceed the current building regulations.
Birgham lies in the midst of beautiful Borders countryside almost halfway between Kelso and Coldstream, right by the River Tweed.
The properties are located on the eastern edge of the village and are within walking distance of the renowned Fisherman's Arms restaurant and bar.
The site dates back to the mid-1700s, lies to the north of the current cemetery and is thought to have formed part of the grounds of a 12th century chapel. In the village itself, the Treaty of Birgham, between the Scottish and English kingdoms, was concluded in 1290.
Hudson Hirsel is a partnership between Jamie Hudson, one of the founders Hudson Homes which specialised in creating select and varied high quality property developments across Scotland and the North of England, and the Hirsel Estate (part of Douglas and Angus Estates). The company delivers unique development which reflect the quality and importance of the historic Hirsel Estate. Hudson Hirsel combines the balance and experience of sensitively designed new residential development and the sustainable management provided by the Home Family who have been guardians of the Hirsel Estate and lands for the last four Centuries.
With over 30 years in the industry we know property development and we are confident we can deliver a quality house buying experience, from start to finish.