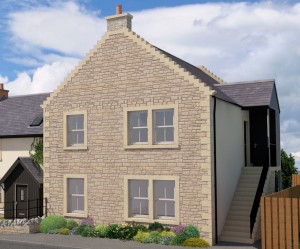 Hudson Hirsel is currently offering two properties for shared ownership at Leet Haugh. Shared ownership, or equity, is where the property is sold for 75% of its market value and Hudson Hirsel retain 25% of the equity. The properties available are the Sutton on Plot 202 for £137,063 and the Wark on Plot 245 for £95,625
In order to qualify for shared equity, the purchaser must demonstrate that they would not have funds or be able to obtain a commercial loan/mortgage for 100% value of the house.  This can be done by way of letter from an accountant or independent financial advisor.
It will be a condition of the sale that the shared ownership unit must be used as the primary residence by the purchaser.
The equity retained by the developer does not require to be repaid by the purchaser until the property is sold or transferred for the first time and no interest or rent requires to be paid on the amount of equity retained.
When the property is sold or transferred for the first time, the amount to be repaid will be 25% of the sale value or market value of the house at the time it is sold.
Shared Equity Reservation Procedure
The reservation fee for a shared equity unit is £250 with a deposit of £750 being due upon conclusion of missives.
The exchange of contracts/conclusion of missives is required 28 days after issuing legal offers to sell.
Confirmation of the availability of funds to purchase the property will be required prior to the conclusion of missives.
Example of Finance
The Sutton on Plot 202 – Full Sale Price £182,750
Amount to be funded by purchaser £137,062.50*
Equity retained by the developer £45,687.50
*Floor coverings, furnishings, legal feels, moving costs, factoring (budget is approximately £250 per annum for maintenance of common landscaping etc), connection to TV/Satellite, LBTT (previously known as stamp duty) is the responsibility of the new owner and not paid by developer.