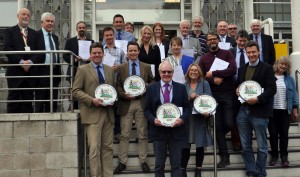 The results of the Scottish Borders Design Awards 2016 were announced at a ceremony held a Scottish Borders Council Headquarters on Monday 5th September.
The award scheme was first established in 1984 and runs every two years with the purpose of:
recognising examples of good building design
educating and inspiring all those involved in new developments
raising the overall standard of building design
"Once again the entries for these awards have highlighted the high quality of building design right across the Scottish Borders.
"The judges have had a difficult task in selecting winners from the large number of entries. Hopefully the winning and commended designs, which are innovative, contemporary and forward thinking, will inspire future projects in the region and beyond." said Councillor Ron Smith, Executive Member for Planning and Environment.
A total of 30 entries were received across the various categories. The architects responsible for Leet Haugh are Aitken Turnbull in Galashiels.
Leet Haugh won the award for Placemaking and the judges said:
"With two phases completed, there is now a real sense of place. There is a hierarchy of space and a lovely contrast between the courtyard and the large village green. The houses have a vernacular theme and great care has been taken to provide distinctive homes. The vision of the landowner has been energetically embraced and enhanced by the developer to provide a 'step change' for placemaking within the Borders."
For more detail of the other winners, go to the Scottish Borders Council webpage