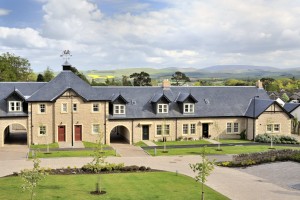 Phases 1 and 2 of our stunning new development in Coldstream have sold out out. The Courtyard and The Village Green at Leet Haugh have proven very popular and we have just recently taken reservations on the last two remaining properties. The Courtyard is a mixture of twenty four detached 'lodge houses', town-houses and 'stable mews' build round a grassed courtyard. The Village Green is a stunning development of sixteen 3 and 4 bedroom detached homes looking out onto a green of almost an acre. Have a look for yourself here.
The homes at Leet Haugh combine traditional building styles and materials with all the comforts of modern living like walk-in dressing rooms, en-suites, country kitchens, traditional utility/mudrooms and built-in wardrobes. Despite the conservation and period design approach, all the homes have gas central heating, low energy lighting and generous insulation that meet, and in some cases, exceed the current building regulations.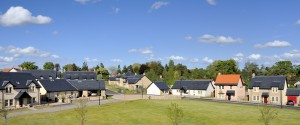 With Phases 1 and 2 sold out, work is pushing forward on the next phase at Leet Haugh. Phase 3 is an impressive mix of terraced houses, bungalows and flats. The two bedroom flats have the option of shared ownership which makes them very affordable. For more information click here.
Leet Haugh is situated on the edge of The Hirsel Estate. Hudson Hirsel is a Douglas and Angus Estates is the Douglas-Home Family estate company. The Family, an amalgam of two of the great Border Families (Home and Douglas) also own the Douglas Estate in South Lanarkshire, where unbroken Stewardship goes back for nearly 1,000 years.